About Us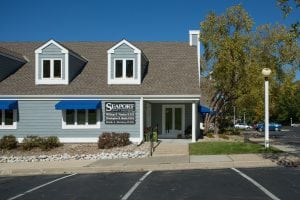 At Seaport Family Dentistry, we strive to help you achieve your most beautiful and healthiest smile. Dr. Tinsley started this practice in 1989 with a small office located on Liberty's Historic Square. We take pride in our experienced and friendly staff, who are here to meet your dental needs. We invest in the latest advanced technology to help improve the look, fit and feel of your mouth. Some of this technology includes 3-D X-rays, digital impressions, clear braces and one-visit CAD/CAM crowns! Not only do we invest in technology, we also invest a great deal in our community. For many years, we have worked with Hillcrest Hope by donating dental care to individuals that are putting their lives back together. Also, Drs. Tinsley and Shultz started Doctors with a Heart Day, where we donate one day a year for FREE dentistry for those without insurance. Our practice consists of ten hygienists and three doctors; which makes for convenient appointments for families as well as one late night. Here at Seaport Family Dentistry, there is an unmatched sense of culture, fun, and professionalism that is hard to find anywhere else. You can trust your smile and your loved ones smile with us!
Our Advantages
Digital Dentists
We are a highly tech-savvy office. We take pride in staying on the leading-edge of new advancements in dentistry.
Trios 3Shape Scanner
A fast and efficient way of obtaining tooth anatomy without impressions. Watch as we scan your teeth on the computer screen in front of you.
Guided Implant Surgery
We use a computer-generated surgical guide to precisely place your dental implants. This is an extreme benefit to your healing and final tooth position.
Certified Dentists
Our Dentists have over 30 years of experience and training to make sure you have the best experience with us.
Our Happy Clients
Clean, professional. Been going hear for 10 years and i couldn't imagine going anywhere else. Also great with kids. My son has had nothing but good experiences thus far and actually gets excited to go.
I live in Washington state. I was in Missouri for a while and had absolutely no health insurance. Needless to say, I ended up with an infected tooth. No one would see me without insurance. Your office got me the antibiotics I needed and then treated me in the ER with intravenous antibiotics. I could have lost my life if it weren't for these dentists. I am back in Washington and now have my teeth fixed. Thank you for what you guys did for me back then.
Dr Schultz is wonderful. I wish my son took as good of care of his teeth as Dr Schultz took care of him. Two pain free fillings done with out any anxiety from my little guy. The staff is warm and friendly and the Drs. Are top notch!
So thankful for them! They were open late and were able to pull my 7 year olds tooth when he cracked it in half eating a hard candy! Very professional, very friendly, happy, caring! They could have charged me anything and I would have had no choice (and I've been to dentists who would have totally taken advantage!), but they were priced incredibly reasonably! I can't say enough about how happy I am and I've never ever ever said that after walking out of a dentist office!
Contact Us For An Appointment