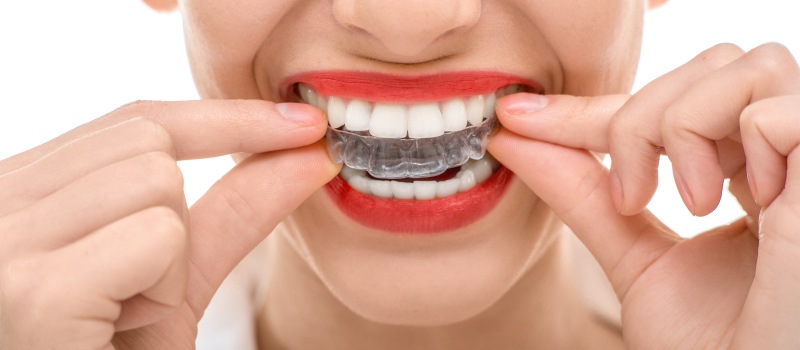 Whether you just want generally straighter teeth or you have a misaligned bite, we can help you achieve your own picture-perfect smile with clear aligner therapy at Seaport Family Dentistry. Not only will straightening your smile help boost your confidence, but it can improve your oral health as well. This is because straighter teeth are easier to keep clean, which will reduce your risk of tooth decay and gum disease. Read on to learn about Invisalign® and ClearCorrectTM.
ClearCorrect & Invisalign vs. Traditional Braces
Traditional braces consist of metal brackets that are glued to your teeth and connected by tiny rubber bands and wires. They remain on your teeth for the entirety of treatment and require changes to your diet and oral hygiene technique.
ClearCorrect and Invisalign are virtually invisible aligner trays that are changed out every few weeks to keep your teeth moving into their new positions. These clear plastic trays are removed when eating, drinking, and cleaning your teeth, but are otherwise worn for 20-22 hours a day.
Do ClearCorrect & Invisalign Work Faster?
Depending on your unique alignment needs, clear aligner therapy may be faster than traditional braces. Traditional braces are worn for an average of 1-3 years, while clear aligner therapy usually only takes 12-18 months. However, the time frame can be much shorter or longer for either treatment. In addition, some patients may not be a good candidate for clear aligner therapy. While mild to moderate misalignment can be treated with clear aligner therapy, severe misalignment is best addressed with traditional braces.
So What Can Clear Aligner Therapy Fix?
Invisalign and ClearCorrect can treat several common alignment issues, including:
Crowded Teeth
Overbite
Underbite
Crossbite
Gap Teeth
Open Bite
Generally Crooked Teeth
Clear Braces at Seaport Family Dentistry
If your teeth are crooked, crowded, or gapped, Invisalignor ClearCorrect could be a discreet way for you to get the straight smile that you have always dreamed of. But the only way to find out if you are a good candidate is to visit with our expert team for your FREE consultation. So contact us today to schedule an orthodontic consultation at Seaport Family Dentistry in Liberty, MO!