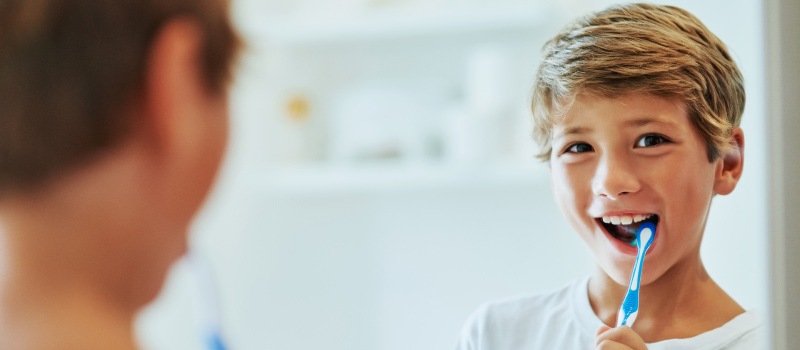 When your child begins to brush their own teeth, they will need some supervision to be sure they're brushing the right way. At Seaport Family Dentistry, our friendly team would be happy to demonstrate the proper way to brush their teeth when they come in for their regular checkups and cleanings. But first, read on for some helpful tips for kids brushing their teeth.
1. Buy Them a Soft-Bristled Toothbrush
The American Dental Association recommends a soft-bristled toothbrush for the best and safest clean because using a firm toothbrush can actually damage your enamel and irritate your gums. This is especially true if your child has a tendency to brush too hard. Their toothbrush needs to be an age-appropriate size so it fits comfortably in your child's mouth, and it should be replaced every three to four months or even sooner if your kid gets sick. The fun part about a toothbrush for a child is picking out their favorite style at the store, whether it features their favorite cartoon character or is their favorite color. This will help encourage them to brush their teeth! For kids older than three years old, another way to make brushing more exciting is to invest in a child-friendly electric toothbrush.
2. Teach Them the Correct Technique
The right toothbrush will provide maximum benefit to your child's oral health only if they use it correctly. This involves gently brushing every surface, from the front and back of every tooth to the chewing surface. Teach them to pay special attention to behind their front teeth, particularly the bottom front teeth, by tilting their toothbrush vertically. This is where a lot of plaque and tartar forms. And last but not least, help your child remember to brush their tongue to get rid of bad bacteria and lingering debris.
3. Remind Them to Brush the Entire 2 Minutes
Remind your child that brushing their teeth is not a race. There are no prizes for those that rush through, only a gradual decline in oral health. In fact, poor oral hygiene will result in gum tenderness, bleeding gums, sensitive teeth, bad breath, tooth pain, and even tooth loss! The American Dental Association recommends brushing twice a day for two minutes each time to prevent oral health issues. A great way to encourage kids to brush their teeth for the full two minutes is by playing their favorite song.
Consult with Our Friendly Team!
Daily brushing and flossing, coupled with routine dental visits, will keep your child's breath fresh and their mouth healthy. If you have any other questions about your child's oral health, contact us today.